https://www.grinding.ch/en/
UNITED GRINDING
Learning the state of the art
The modern transfer of knowledge and the development of young staff are becoming increasingly important at the companies of the UNITED GRINDING Group.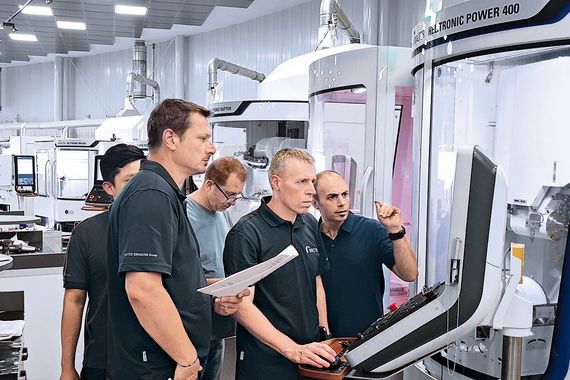 IN AN INDUSTRIAL HALL, A GIANT OF A MAN WITH TATTOOED ARMS walks past machine tools from the UNITED GRINDING Group and speaks into the camera: "The BLOHM, the STUDER, the WALTER: We've got a series for each individual machine, and we'll show you the journey of how they arrive, how we set up and install them and then configure them." The man is Titan Gilroy, and many on the CNC scene know the story of the US ex-boxer from being a criminal to a successful entrepreneur and star of the popular video-forming platform "TITANS of CNC." Gilroy is now working with the UNITED GRINDING Group to share his know-how and inspire young people to become professional grinding techs. His series, the "GRINDING Academy," went live in July 2022. The free tutorials invite grinding enthusiasts to acquire valuable knowledge. "The precision and quality that is possible with CNC grinding should be better known. The academy will highlight all these possibilities and show viewers how they can use them," says Paul Kössl, Global Head of Marketing & Business Development at UNITED GRINDING Group. Knowledge transfer — the topic is playing an increasingly important role. Whether online or in person, as an offer to the general public, customers, in-house junior staff, or technical specialists. If you want to survive in times of skilled worker shortages and digitalization, you have to build up a reputation for imparting knowledge and training using modern methods and up-to-date technology. Angela Fahrenkrog, who has taken on the newly created position of training officer at BLOHM JUNG, has observed the same thing. "The tables have turned, and nowadays, we're trying to convince the few qualified candidates of why they should work with us, and not the other way around," she says. The company with 220 employees at locations in Hamburg and Göppingen currently has three trainees. Fahrenkrog's three-person team handles support and acts as an interface to the individual departments. Her tasks also include presenting the company to potential young talent: "This year, we will be represented for the first time with a stand at the dream career high school fair in Hamburg."
TRANSFER OF KNOWLEDGE FOR YOUNG PROFESSIONALS AND SPECIALISTS
Recruiting new talent nowadays also means clearing up old stereotypes: This is why WALTER regularly takes part in "Girls' Day", the world's largest career orientation project for female students. The aim is to bring greater interest and involvement by girls in professions and fields of study in which the proportion of women is below 40 percent. "We are visited by as many as five female high school students in the assembly hall every year, looking to find out more about the practical side of working as a mechatronics technician," says Celine Ruckaberle, who oversees the project. STUDER also gives young people an onsite tour of the company, letting them know about the attractive career opportunities. At the 'Future Day' every year, young people from the region can visit the Thun location and learn more about the work of automation technicians, automation system assemblers, the sales force, designers, logistics specialists, and polymechanics. In addition, there are multi-day "test apprenticeships," which draw up to 200 high school students each, notes Michèle Zeller, head of marketing communication at STUDER. In addition to attracting young talent, training and continual professional development of in-house technical specialists is another important aspect of modern knowledge transfer. This is because they are increasingly spread around the world, in order to be as close as possible to the customer. The "WE Academy" at WALTER and EWAG, for example, was set up for the internal transfer of knowledge in sales, service, and applied engineering. "All employees worldwide are trained online and in person as required to ensure they are bringing our customers up-to-date knowledge," says Christoph Ehrler, head of marteting at WALTER and EWAG. STUDER trains its service specialists and customers at the "STUDER Academy," using digital multimedia equipment with cameras to complement face-to-face teaching and online instruction (live on machines and on-demand videos and documents). This means that the most complex knowledge and knowhow can be acquired from anywhere in the world. Because at UNITED GRINDING, it all ultimately comes down to quality and trust, whether it's the learning is conducted digitally and remote or face-to-face.
TEXT: Markus Huth