Our employees actively shape the future of our group and make us what we are: one of the leading manufacturers of precision machines for grinding, eroding, lasering, combination machining and measuring.
Here we introduce you to some of our employees, around the globe.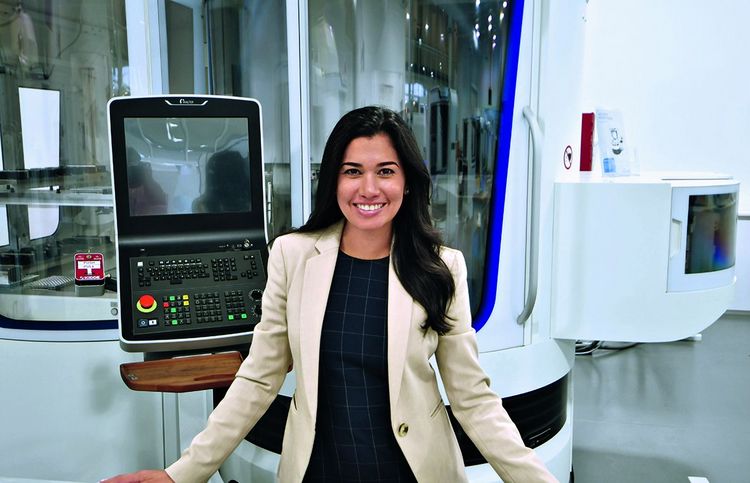 COMMUNICATION IS CENTRAL TO MY PROFESSION
Rosie Underwood, UNITED GRINDING, USA
IT ENSURES THAT EVERYONE PLAYS BY THE RULES. Trade Compliance Manager, Rosie Underwood, is responsible for ensuring that machines arrive on time at the customer's site and that the corporate regulations are adhered to during import and export. "No working day is the same as another, and my profession challenges me in a positive manner. I'm trying to improve processes and strengthen compliance," she enthuses.
Her tasks include planning all transport between customs, port, companies and customers, regular audits at the freight forwarder and updating certifications. "Communication is central to my profession," says Underwood, "I am in constant contact with our carriers, freight forwarders and brokers, as well as all the departments of UNITED GRINDING North America and my colleagues in Europe.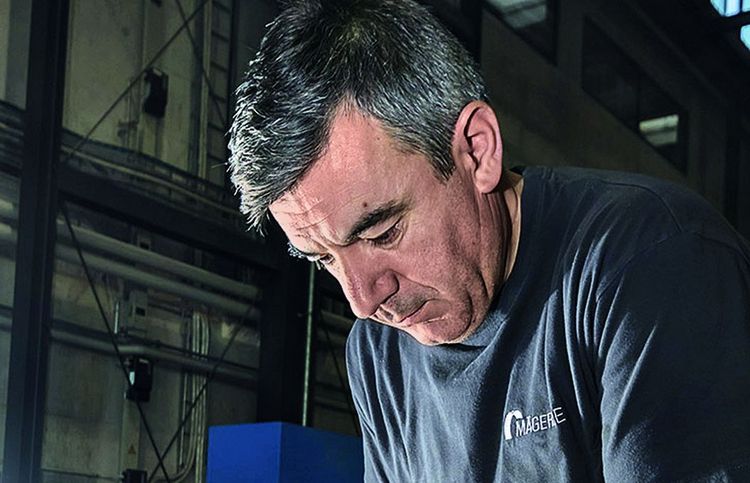 I COME INTO PLAY FOR THE FINE TUNING
Faruk Sentürk, MÄGERLE, Switzerland
"IT IS A GOOD FEELING WHEN the machine meets all the accuracy specifications and the customer is satisfied with the machine acceptance," explains Faruk Sentürk. He processes guideways and base surfaces for other components and does this manually. On the machine bed of the MÄGERLE machines, these are, for example, the supporting and locating surfaces for the linear guideways. These are measured electronically and where deficits in straightness, angularity and evenness are found, Sentürk reworks with pull or push scrapers. In 2012, Sentürk moved to assembly at MÄGERLE from a company where he had learned the trades of scraping from scratch. "My good visual perception certainly helps me when I scrape," explains the expert. "The manufacturing tolerances of the individual components play an important role in the final accuracy of the grinding machine," says Sentürk. He cannot imagine that the fine-tuning of these components will in future be done by a machine. And so machine acceptances continue to be a personal sense of achievement for Faruk Sentürk.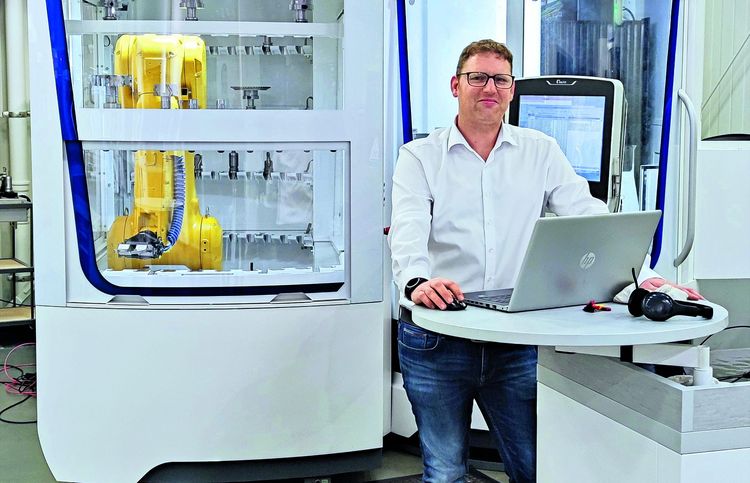 WE DON'T MERELY WORK USING GENERAL GUIDELINES, BUT ACTIVELY HELP TO SHAPE THINGS
Tobias Geiselhart, WALTER, Germany
"IT'S GREAT that I can follow the entire life cycle of a machine," says Tobias Geiselhart. This is one of the reasons why the graduate computer scientist decided to work for a machine tool company. In this way, he and his team can record and continuously improve all facets and processes of the product. "This is not simply working in line with documentary requirements, it takes both active creativity and responsibility," explains Geiselhart, who has been with the company since 2017. Prior to that, he worked, among other things, in the photovoltaics industry in the field of production solutions and process automation. He is currently leading a project team working on the ProcessManager software. This software forms the basis of all machines in the HELITRONIC series in conjunction with the Robot loader25 automation option and will be a future component of C.O.R.E. Developing software using the latest technologies is what makes his work so enjoyable, says Geiselhart. "We are exploring new horizons and actively shaping the sector."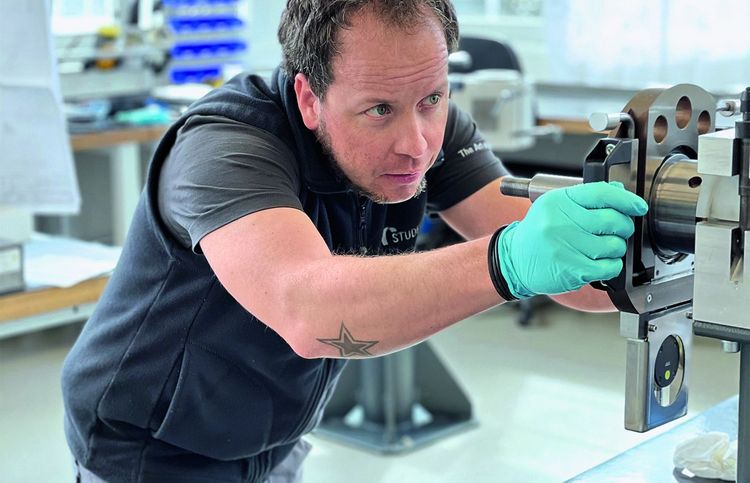 I'VE ALWAYS BEEN THE CRAFTSMAN TYPE
Simon Hulliger, STUDER, Switzerland
"THE GRINDING SPINDLE IS THE HEART OF EVERY GRINDING MACHINE," explains Simon Hulliger, the team leader of spindle assembly at STUDER. "Each individual grinding spindle is measured and then individually ground in and adapted." Good analytical skills and networked thinking are important here – as are manual skills. "Even as a young boy, I was more of a manual type," explains the Swiss-born. After an apprenticeship as a polymechanic, a stay abroad, and a position in the plastics industry, Hulliger joined STUDER in 2005. He particularly appreciates the precise work and the exchange with colleagues there. Under his leadership, spindle production has been greatly optimized. "We have achieved great process reliability with high productivity." And this is important, because the heart of the machine is, of course, also a crucial part of the entire machine production in Thun. "And that is where the following processes can count on us," says Simon Hulliger.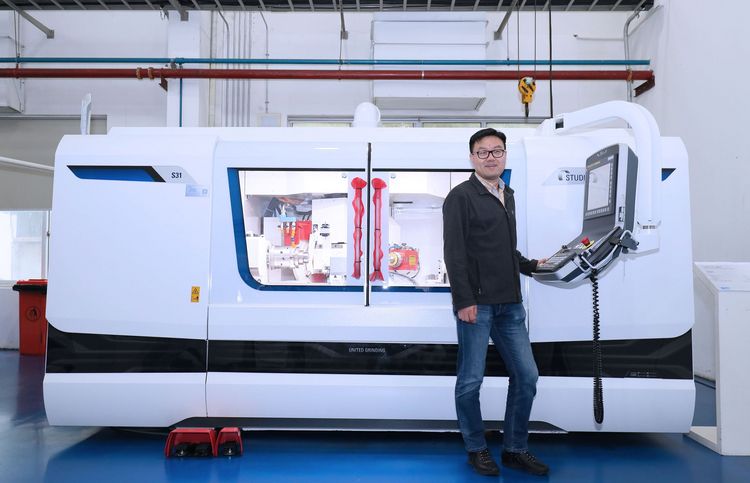 WORKING WITH PASSIONATE SOLUTIONS
David Wang, UNITED GRINDING, China
"PASSION, STABILITY AND PRECISION – that's what I appreciate about my work," says David Wang, Cylinder Team Consultant in Customer Service. Wang began his career at UNITED GRINDING China in 2007 as an engineer for STUDER machines, then after ten years he moved to Customer Care. Now he regularly visits customers to maintain and repair the machines. In addition, his team regularly turns to him when retrofitting machines and in particularly demanding cases. David Wang's many years of experience and his expertise of machines, technologies and new tools are also regularly passed on to his colleagues in the course of in-house training courses. And even if it gets complicated, Wang finds a way: "I love machine tools and work with great passion every day on solutions for our customers."