https://www.grinding.ch/en/
UNITED GRINDING
Why Digitalization Matters for the Machine Industry
This power of digitalization can be summed up in one anecdote: In 2010, oil multinationals such as Exxon Mobil, Petro China and Shell stood atop the largest companies in the world. Other powerful players included Nestlé and Asian banks. All have since disappeared from the leaderboard. 8 of the top 10 companies are now technology companies.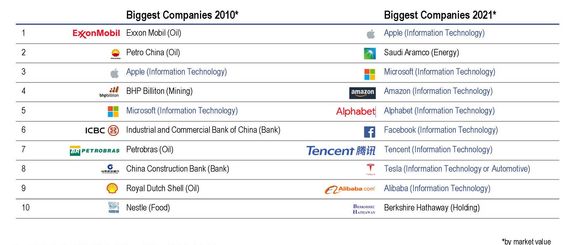 There is no clear definition for the term "digitalization". It can assume several meanings depending on the respective context. In the original sense, digitalization means the conversion of analog information into digital formats. Another important aspect of digitalization is the digital revolution, also known as digital transition or digital transformation. Digital transition describes the processes of change triggered by digitization in society including, the economy, culture, education, and politics.
So How Does Digitalization Relate to Big Data?
Perhaps it's best to start with a definition of terms: 'Big data' is shorthand for the vast amount of structured and unstructured data that floods companies every day. It's not the data itself that is so important. What matters is what companies do with this data. Large collections of data can be mined for insights. These in turn serve as the basis for making better decisions and strategically aligning the company. Companies in almost all sectors rely on big data. To identify trends and to innovate. According to statista.com, by the end of 2021, there will be an estimated 403 exabytes of data stored worldwide. Another thing that is growing constantly: Our ability to make data and information understandable and to draw actionable insights from it.
« Digitalization is the main reason why more than half of the Fortune Global 500 companies have disappeared since 2000 »
Pierre Nanterme, CEO Accenture
It can be said that data is the fuel of digitalization. But its engines are the algorithms. It is essential to combine advanced statistical models and new computing techniques. This is the only way to understand and use data and information resources. The algorithms are the link. This is because only rules and algorithms are proficient at searching for patterns in data assets and solving problems in only a fraction of the time and effort required by conventional computing methods.
What Does Digitization Mean in the Machine Industry?
In the machine industry, digitalization is also synonymous with "Industry 4.0". What do entrepreneurs hope to achieve through it?
Swissmem conducted a representative survey in 2020. Over 79% of survey respondents see a great benefit or some benefit through digitalization in "increasing product and service quality," followed by 73% who anticipate "creating additional benefits for customers." This shows that companies see the potential of Industry 4.0 in their market performance. However, there is also massive untapped potential lurking in potential increases in productivity and process efficiency.
A Glimpse into the Crystal Ball
But why is digitization growing in importance? What is driving this trend?
Data will play a major role.
Major innovation steps will be based on networked systems.
Partnerships in digital ecosystems are becoming increasingly important.
Boundaries between hardware, software, and IT will disappear (IoT).
Cutting-edge machine tool interfaces (UX) are becoming a relevant USP.
Expertise in programming and production is made available through cloud solutions, i.e. shared.
Another hugely important factor is that the digital natives will be the next generation of customers and decision-makers. They have no memory of a time when the Internet didn't exist and are never offline. For digital natives, connectivity and data exchange is normal anytime, anywhere, and multi-touch gestures are more or less rooted in their DNA.
For us, this means:
modern user-friendliness of machine tools is now essential
user interfaces must be intuitive and expert systems are required
smartphones must be integrated as user interfaces

What Benefits can Manufacturing Companies Achieve with Digitalization?
Manufacturing companies are becoming more networked, processes are becoming more intelligent and decisions are increasingly automated or implemented using humans as a co-working approach. Specifically: Machines talk to other machines and exchange information. Where is the product in the production process? How can waiting and changeover times be optimized in the production process? How can the consumption of electricity be reduced? But also outside of companies, in their interaction with the environment. Is there enough raw material? When should reordering be initiated? How can inventory be optimized? Where is customer delivery in the supply chain? Is delivery to the customer being made at the right time? All of these questions determine whether a manufacturing company has a competitive advantage or not. With a glance into the crystal ball, Marcus Köhnlein dares to say: "One can even imagine portals where orders can be automatically passed on to machines, with the optimal order selected for the machine without any changeover time."
« Digitalization is changing the industry as a whole and will also have a major impact on manufacturing industry returns »
Marcus Köhnlein, Head of Digital Business, UNITED GRINDING Group
And What is the Current Challenge in Terms of Digitization in Machine Tool Manufacturing?
"In my experience, the MEM industry lags behind other sectors and industries," says Marcus Köhnlein. Traditionally grown manufacturing companies first have to learn how to develop digital products and services and turn them into successful products on the market or use them for internal purposes to optimise processes. Many companies must first understand that the combination of digital and physical products offers enormous growth potential.
What UNITED GRINDING Offers
UNITED GRINDING offers "Digital Solutions," a portfolio that we are continuously expanding and supplementing. It means that customers continually receive new versions with more intelligence, new functions, and new technologies. Minimize time-consuming and costly malfunctions or downtimes with UNITED GRINDING Remote Service. The Service Monitor shows the maintenance due date for all connected machines. It is possible to see at a glance when and which maintenance activities are due. Production Monitor provides a reliable 24/7 monitoring service. Run-times and auxiliary times, production quantities, and downtimes times are displayed in real-time. This service not only works with our machines, but also with third-party machines, so that an overview of the entire production process can be obtained.
Stephan Nell, CEO of the UNITED GRINDING Group, explains: "We have invested unwaveringly in research and development both before and during the coronavirus pandemic, to secure the future – not just for us, but above all for our customers. And when we talk about the future, it is now inseparably linked to digitalization and with increased ease of work in production." The result is C.O.R.E. – Customer Oriented REvolution. In the process, the focus is once again placed on people – in a revolutionary way. Find out more in the next blog.