STUDER Press Conference April 22nd, 2021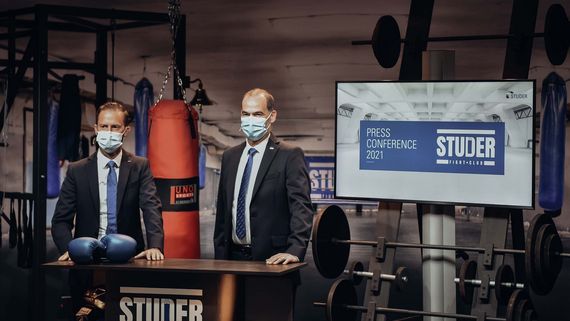 Just over a year ago, STUDER had to cope with a decline in Sales, however still recorded the thirdbest year since its founding. However, the economic situation was already deteriorating significantly at that time. With the outbreak of the COVID-19 pandemic, many Countries imposed lockdowns in February and March, some of them severe. STUDER ended 2020 on a positive note thanks to an excellent order input at the beginning of the year and above all, due to a strong yearend spurt. The positive mood of customers has accompanied STUDER into 2021. A further economic recovery is noticeable.
Due to the worldwide travel restrictions and protective measures, and in the spirit of digitalization, this year's STUDER press conference took place online. It is very encouraging that a record number of participants took part this year. To cater for the individual time zones, three events were held on the same day. Around 120 participants from more than 30 different countries participated in the event.
Traditionally, the STUDER press conference takes place as part of the Motion Meeting, the annual worldwide sales event. And this year, too, the events held online were united by the common motto: "STUDER Fight Club". STUDER reported live from the boxing and training studio set up especially for these conferences.
The last Motion Meeting took place over a year ago. Although STUDER had experienced a decline in sales at that time, the company still recorded the thirdbest year since its founding. However, the economic situation had already deteriorated sharply.

« We are accustomed to this, because machine manufacturing is notoriously a very cyclical business and you need to be able to manage these fluctuations in order to survive »
says Jens Bleher, CEO of Fritz Studer AG.
However, a new threat was appearing on the horizon for the world economy: The corona pandemic. "Initially it was a matter of protecting the staff and safeguarding the company", continues Bleher. STUDER reacted quickly, and consistently introduced extensive protective measures. The STUDER Corona Task Force went into action from the outset. This meant that outbreaks in the factory could be prevented and STUDER was able to always provide a full service for its customers. The company is doing everything in its power to ensure that this remains the case.
STUDER has successfully withstood corona and the downturn, and overall, the situation is considerably better than during the financial crisis ten years ago. The company has reacted to drops in sales with the proven annual workhour model and where necessary, with shorttime working. Major developments have been continued and the product portfolio further devel-oped. Numerous group projects from "UNITED GRINDING Digital SolutionsTM" play a key role in connection with digitalization. Structural alterations and investments in new products, machinery and equipment have also been considered. "STUDER invested in 2020 and will continue to do so this year." says Jens Bleher. "All in all, we consider ourselves to be well positioned, which is a decisive advantage, particularly in the current competitive environment", continues Bleher.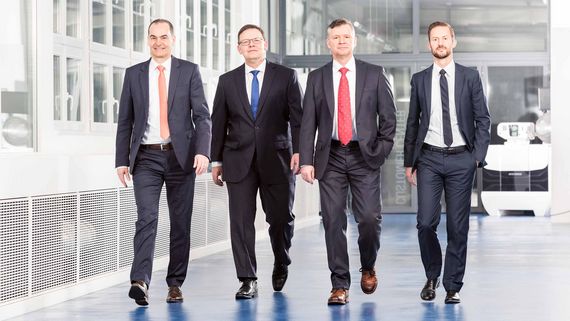 They were also affected by the pandemic, but even in these times STUDER has stuck to its tried and tested vocational training. "The number of STUDER apprentices remains high, they make up over 11% of the workforce", explains Jens Bleher. STUDER was also able to always ensure professional training. This is reflected by the success of the apprentices in their final year, who were able to prepare thoroughly, and all passed their final exams. In addition, an internal follow on solution could be offered for all. STUDER is continuing to invest in apprenticeship training, such as a new NC lathe for the apprentice workshop.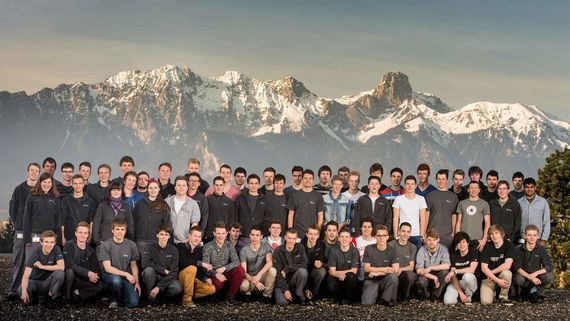 In addition, STUDER vocational training once again produced toplevel performances last year. All four STUDER participants won medals at the SwissSkills in the disciplines of polymechanics and automation. With one gold, one silver and two bronze, they achieved the best results in years. "STUDER thus has the current Swiss champion in polymechanics and will be represented again at the next WorldSkillls," Jens Bleher concludes.
Sales, Service and Marketing Activities
The STUDER start to the year 2020 was promising, until the point in March when one country after another around the world implemented drastic and strict lockdown measures. "But even in a year like this, it is important to hold on to the positive," says Sandro Bottazzo, CSO of Fritz Studer AG.
STUDER was able to start the past year with a good backlog thanks to the positive order intake from the previous year. "Thanks to the very good order intake towards the end of last year, particularly from Asia and Latin Europe, but also in some cases from Central Europe, STUDER generated a substantially higher order volume than during the last major crisis in 2009. This was a positive development because the general market decline was similar to that experienced during the financial crisis more than eleven years ago," says Bottazzo. The strong December also put the company in a positive mood. "Many of our customers are expecting a stronger second quarter or second half of 2021 in particular, which is precisely why many grinding machines were still ordered in December," concludes Sandro Bottazzo, summing up the past year.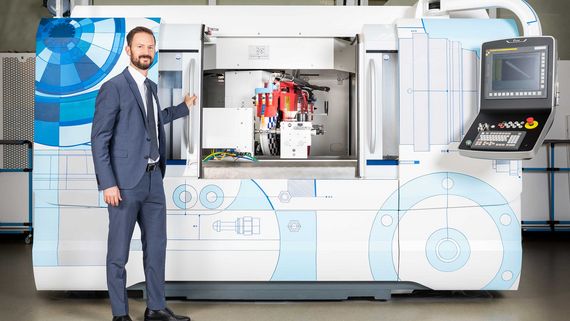 "Another key factor of STUDER's success is the broad portfolio of different universal external, internal, production and conventional cylindrical grinding machines", continues Bottazzo. The new S33 launched in 2019 was by far the best-selling STUDER cylindrical grinding ma-chine last year. Followed by the internal grinding machines as well as the new S31 and the new favorit. Sales of the entry-level external grinding machine, the favoritCNC, have also developed very positively.
Summing up the market in general, the order situation in Germany in particular, was low compared with previous years. This is partly due to the COVID 19 pandemic, but also to the ongoing structural changes in the automotive industry. Order intake in 2020 from Asia, North America and North-eastern Europe remained at a very pleasing level. This was mainly due to high demand from the jobshop and aerospace industry segments. However, Latin Europe was also quite positive, thanks to the strong end-of-year spurt from Italy. "In total, we sold our grinding machines in over 40 different countries worldwide in 2020," Bottazzo explains.
Another key success factor over the past year was STUDER Customer Care. "Thanks to our local, customerfocused network of over 130 STUDER service technicians worldwide, we were able to provide our customers with continuous support during the pandemic", says Bottazzo - despite international restrictions. This global network of service technicians is certainly unique in this form in the universal cylindrical grinding machine market. A network which STUDER will continue to expand. "We are convinced that sustained success is only possible, if we are and remain close to our customers", emphasizes Sandro Bottazzo.
STUDER has also further developed its portfolio of digital services. Customers can now purchase the complete UNITED GRINDING Digital SolutionsTM retrofit package with a maintenance contract at a special price. With a very wide portfolio of services, STUDER offers eve-rything from one source throughout the entire life cycle of a cylindrical grinding machine.
Insights into STUDER Production
The UNITED GRINDING Group has developed a digitalization roadmap, which STUDER is now implementing step by step.

« In addition, we also use all the technologies that we offer to our customers in our own production »
explains Stephan Stoll, COO of Fritz Studer AG.
UNITED GRINDING Digital SolutionsTM can be mentioned as an example. The Production Monitor provides an overview of the operating status of the company's manufacturing and assembly production equipment at any time. It shows customers in real time whether and which machines are in operation and can display the corresponding production history. This is not only of particular interest and benefit for managers on the shop floor, but also for machine operators of unmanned machines. Not only can STUDER machines and other machines from the UNITED GRINDING Group be integrated into this app, but, via the standardized umati interface, a wide variety of external production equipment and manufacturers can also be integrated. "At the workstation, the system also allows many detailed analyses and status reports, including information on order statuses, maintenance intervals, and any servicing that may be required," says Stoll.
Digital tools are another step towards digitalization: Work instructions, test processes and checklists are largely paperless and are always available in the latest version. "Tablets and screens have already become indispensable aids for the STUDER assembly specialists and are used in a suitable form depending on the workstation", Stephan Stoll concludes.
At the Heart of STUDER – Technology Development
At the STUDER Tech Center, innovations are created, and customerspecific requirements are put through their paces. Digitalization is also a key issue in technology development.
« Today and in the future, we need a transparent yet secure connection, so that process information can be easily transferred to external systems »
says Daniel Huber, CTO of Fritz Studer AG.
These are precisely the advantages offered by the STUDER OPCUA solution. In the Tech Center all machines are also connected by means of OPCUA to our UNITED GRINDING Digital SolutionsTM applications according to the umati universal machine tool interface stand-ard and equipped with additional sensors.
A technology innovation is the laser measuring technology with STUDER LaserControlTM. STUDER has many years of experience in basic research on the use of machine-integrated laser measuring technology for measuring grinding wheels or workpieces. Based on these findings and the latest laser measuring technology, STUDER has further developed the tool monitoring systems used in other industries, to measure workpieces on grinding machines. The latest generation of the STUDER laser measuring system LaserControlTM is suitable, not only for the contactfree measurement of tool cutting edges in the toughest conditions, but also for rotating workpieces, which considerably reduces measuring time. Unbeatably fast, precise, and reliable thanks to premium laser optics and the latest evaluation technology. Highly dynamic and contactfree measurements also allow quality assessment of high-precision PCD tools.
Although STUDER gives an insight into the company's technology, one futureoriented area remains under wraps. The company is working on THE innovation for EMO 2021. STUDER and the whole UNITED GRINDING Group look forward to surprising you with several innovations at EMO in Milan! Visit us on our exhibition stand at EMO Milan from 4 - 9 October 2021!