COVID 19 pandemic: Current business situation and immediate help for customers
Blohm Jung GmbH is carefully monitoring the situation and its effects surrounding the spread of SARS-CoV-2 (novel corona virus). We comply with the measures specified by the Federal Ministry of Health and the Robert Koch Institute. All the measures taken are aimed at protecting the health of our employees, customers and partners and ensuring that our business activities are conducted in the usual quality.
BLOHM JUNG can support you with your matters in a personalized, flexible and customary quality even in times of home office and curfew thanks to the use of advanced communication applications such as Skype for Business.
At this point in time as of March 25, 2020 the regular availability of spare parts is generally ensured. However, there may be delays in individual deliveries due to restrictions to contain the spread of the virus. So far, no bottlenecks have been reported for purchased parts. The situation is reassessed daily.
Thanks to our local network of service and application engineers, we are still able to react in many countries, provided that no border crossings are required. Our technicians are sensitized, comply with local regulations and follow customer-specific safety measures. Our coordinators responsible for service and application engineering assignments will contact you as required before the assignments to discuss any situational issues.
We ask for your understanding should bottlenecks nevertheless occur due to corresponding country-specific regulations which may restrict the deployment of our employees. In many cases, our proven remote maintenance solutions can provide fast troubleshooting.
Should the situation change, we will inform you again.
---
« We won't let you down! »
Philipp Wappler, Head of Customer Care
Many companies are currently faced with the question of how they can quickly restore the availability of machines and production in general, even in the event of problems, despite worldwide travel restrictions.
Our UNITED GRINDING Digital Solutions™ products, such as Remote Service, support you in this task: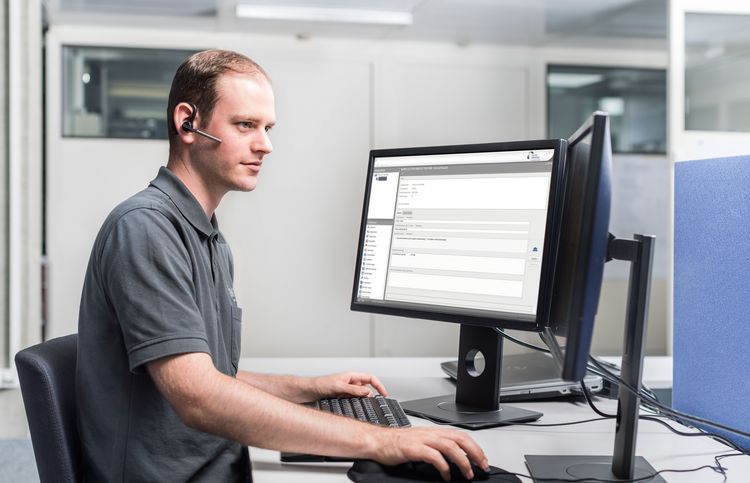 Remote Service – your digital helpline
Fast. Transparent. Secure.
From anywhere and at any time: Simple and straightforward service request for direct assistance
Increased system availability by minimizing downtime
Remote analysis and troubleshooting by service experts
With Remote Service we offer a comprehensive solution for ideal support of your machines. Secure Internet connections enable expert support with just one click – without any travel times.
Learn more about UNITED GRINDING Digital Solutions™
Talk to our Head of Customer Care about our immediate assistance offer: